Meet the Collective: Sabitha, merchandise and production planner
What training did you have?
I started directly from college. MSC Fashion Design and Merchandising. It was a five year course at The Coimbatore College of Technology. My sister did fashion design and fashion technology. A lot of members in my family are in the garment industry, my cousin is a merchandiser in Bangladesh.
How did you get the job at Oshadi?
Through college. Oshadi was in contact with someone in college, and I interviewed here. I've completed my first year here. I worked for six months as a trainee. I came in as a production assistant. And now I'm planning the production and merchandising.
Do you think you'd be at this level if you were working at another brand?
No, no. Never. It would take minimum two to three years to get up to management level. I can gain more in-depth knowledge about fabrics. In college we learnt about structure, fabric structures and things, but I don't know how it works in the real world. So, after coming here, I know about fabrics, dyeing process, printing process. At Oshadi, I have the chance to know everything from yarn to garment. If I had gone somewhere else, I will be able to manage only the production. Here, I'm learning about textile, printing, dyeing... everything, prints, sourcing, pattern making.
Is the ethical production seed-to-sew ethos of Oshadi important to you?
Yeah. We are doing everything organic and cotton based and we are not using anything that is harmful to us and also to the environment. So even for coming to the interview, I saw the profile of Oshadi on Instagram and the website so I thought it was important from the start.
Do you get taught at college about the impacts of the industry on the environment and sustainability? Does it worry you?
Yeah, we learned about sustainable things, how we can make an impact from being a designer, doing upcycling, things like that. But implementing it needs in-depth knowledge that we have to focus more on.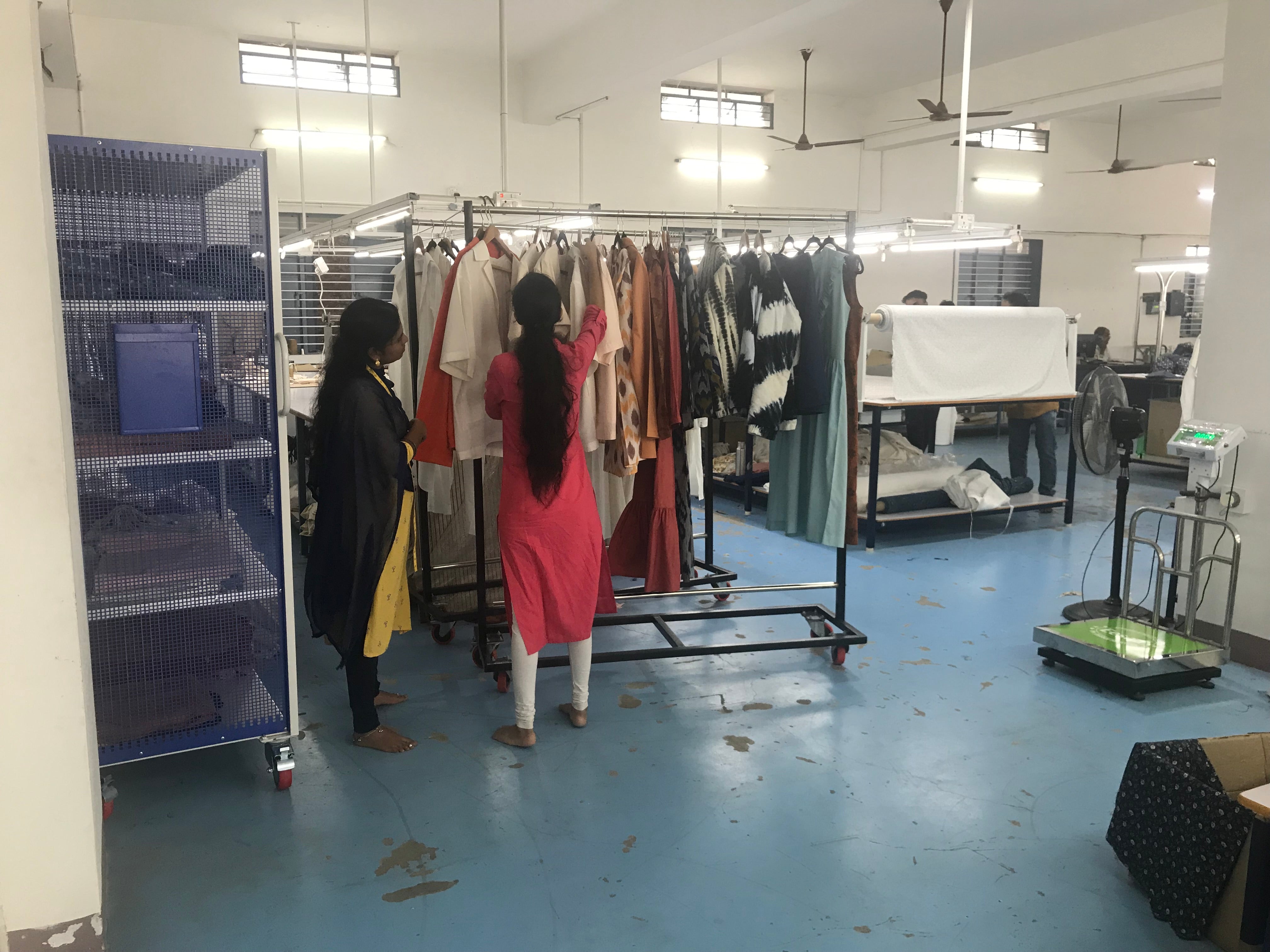 Sabitha and Pushpa going through samples
Do you live at home?
Yeah, I'm not from Erode, I just came for work. I lived seven hours away. I brought my mum and dad here, for my job. I have one brother who got married, he's living nearby. 40 minutes travel. He's a civil engineer in the construction business.
What do you do in your free time? Do you have any free time?
I am starting to read books now. Before I used to do that when I was in my school, but after college, I didn't have time. I like to read biographies and I'm now following Sadhguru.
What was in your lunchbox today?
I went home, I didn't bring a lunch box. Today, I had an omelette and sambar rice.
Sabitha, Nishanth and Suzanne discussing fabrics for the first collection
Do you worry about the pollution in the air and the water, particularly around Erode?
Yes,, the people here like to go to a river for bathing. They used to wash their clothes and bathe, and would bring their children. But if the water gets polluted, then how can we let them play in the water? It's not good for them. So people started to get baths in their house. And they don't go out and, for me, I want to refresh in a pond or river. But nowadays you can't do that. Because of pollution.
Can you see the pollution?
I can see waste and things like cloth, bags, plastic bags, things in the water. And in Tamil Nadu, you have a ritual like some pujas and you have to go in the sea or river, if you go nearby to a river you can see a lot of cloth. Because of industries like dyeing and all that. There's a lot of chemicals.
There's so much nature around here.
But we can't enjoy the nature because of the pollution.
Back To Top